For me, breakfast has always been low on my list of priorities.  I tend to skip breakfast most days.  I simply don't feel hungry.  When lunchtime rolls around, I start to feel a grumble or two, but never before then.  And, if I do happen to, say, eat a breakfast taco or two early, I'll be starving before it gets anywhere near time to have lunch.  I know I'm not the only one, and my issue has been addressed time and time again.
To put it simply, when we sleep, the body enters into a fasting state.  That's why we don't wake up hungry at 3AM (well, not usually).  Eating breakfast "breaks" that fasting state and returns us to our normal metabolic state – and in our normal metabolic state, we get hungry.  Simple as that.
So, I've been missing out on a whole meal's worth of nutrients (and the energy that comes from that) because I didn't want to feel hungry mid-morning.  Oops.  Time to change that.
The Habit
I intend to make a green smoothie for myself each morning along with a bowl of homemade, fruit-sweetened oatmeal.
In order to cut down on the time it takes to make my breakfast, I'll spend an hour or two making up lots of  I'll portion out individual bags of homemade instant oatmeal mixes and individual green smoothie fixin's.  Then, I can stumble out of bed, empty a packet into a bowl, pour boiling water, throw in a handful of berries and be done.  So, for me, I scaled this individual portion-sized recipe way, way up.
Instant oatmeal packets from the grocery store usually contain about 1/3 cup of oats. This never seemed like quite enough to me, but making two was always a little too much.  Hence, the 1/2 cup of oats in the recipe.
Shana's Omega-3 Instant Oatmeal
Makes 1 serving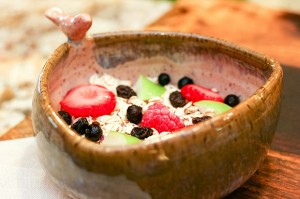 1/2 cup (gluten-free) rolled and/or quick cooking oats
1-2 tsp flax seeds
1-2 tsp flax meal (omit if making ahead)
1-2 tsp hemp groats
1/4-1/2 tsp cinnamon (make double sure to choose Ceylon cinnamon – rather than the standard Cassia cinnamon – if you have a kidney or liver problem, a blood or bleeding disorder, intestinal issues such as Crohn's or IBD, or are pregnant)
Handful of raisins
Pinch of sea salt
Garnish with fresh fruit
Crazy healthy. What more could a girl ask for? Of course, this oatmeal is pricier than a basic instant oatmeal packet (though also loads healthier), and sometimes, you just need something cheap and simple.
A Simpler (and Cheaper) Instant Oatmeal
Makes 1 serving
1/2 cup (gluten free) rolled and/or quick cooking oats
1 Tbs. brown sugar
Pinch of sea salt
This one's definitely kid-approved.  Consider leaving out some or all of the sugar and replacing it with maple syrup.  Yum!
Green Smoothies
For me, green smoothies have always been an afternoon snack.  I'll make up a pitcher full of greens and carrots and fruits around 3 or 4 PM when I need a little pick-me-up.  My teenage son will usually join in on the action, too.  He's always loved green smoothies, and thank goodness for that. I can't say I've ever met anyone else as choosey about the foods he eats as my son is.  Beans and rice, beans and rice, the occasional potato, more beans and rice….  But, at least the smoothies add in a little nutrition.
Dragging myself around the kitchen to prepare a smoothie each morning might prove to be a bit much, I think,  so I'll use this green smoothie system.  Simply put what you'd like to have in each smoothie into freezer bags and store.  When you're ready, just pull one out and blend it up!  What a time saver!
And, the smoothie system explanation at the link above also includes a beginner's guide to green smoothie creation (for those of you who have yet to try this nourishing gem of a drink).  Making your own smoothie is great fun for kids and adults, alike.  Happy blending!
I'll update you on my progress after trying it out for 17 days.  Fingers crossed!
Edit: See how it all turned out – Habit Result: Healthy Breakfasts